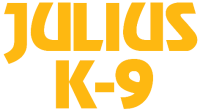 Julius K9 pet products
Julius K9 pet products manufacturer introduces himself. You will find out more about Julius K9 here and their products for pets. Zoobio offers you great prices on all products.
CATEGORIES
Julius K9 online shop
Julius K9 Y-Belt

Art.-Nr.: 9418

7,45

£*

UVP 9,42 £*

Julius K9 IDC Powerharness Baby 2-XS/Mini-S/Mini-M

Art.-Nr.: 49830

31,31

£*

35,58 £*

Julius K9 Muzzle, Cowhide black

Art.-Nr.: 50916

12,89

£*

14,65 £*

Julius K9 IDC Lumino Tracking Leash

Art.-Nr.: 51319

28,80

£*
* Prices incl. VAT
* Delivery Terms & Conditions
Information about manufacturer - Julius K9
Accessories for dogs are produced under the trademark Julius K9. The products are very popular in Europe. The founder of the brand is Julius (Gyula) Sebo and its history began in 1997. The products of the trademark help to accentuate every dog's individuality.
Julius K9 products
Harnesses. The distinctive feature of the products is that you can also attach tags with names, aphorisms and etc. to them. Such "talking" accessories make the bond between a human and an animal stronger.
Leads. These products by Julius K9 differ from each other in materials, length and the presence of a handle.
Collars. The colour variety will let you accentuate your pet's individuality. You can choose an elegant leather collar, a practical item glowing in darkness and etc. To some models you can attach tags with texts, just like in case with harnesses.
Muzzles. Julius K9 produces products taking into the consideration special features of different breeds. For example, you can choose a muzzle for a dog both with a long and a short snout.
Toys. Julius K9 products are durable. You can use most of them during the process of dog training.
Clothing. A practical jacket will protect your pet during cold, windy and rainy weather.
Accessories for dog handlers. This category includes jackets, mats and other products that make the process of working with animals easier.
Advantages of Julius K9 products
The training equipment that is produced under the trademark is one of the best in the world. The majority of accessories is manufactured in Germany.
Products of Julius K9 are noted for their comfortable use. The proof of their high quality and practicability is the fact that they are widely used by police, army and customs service.
Buy Julius K9 online
In the website Zoobio you can already place an order for the products of this brand right now. You need a few mouse clicks for it. Look through our catalogue, choose the necessary products by Julius K9, add it to the cart and place an order. If you need any help, contact our online customer support service. Experienced consultants know everything about pets and Julius K9 products. Zoobio employees will answer all of your questions and help you choose the right product. We also organize a prompt delivery.
Our low prices are your chance to buy Julius K9 products with minimum expenses. Your pet will get only the best!
We are constantly developing so that shopping in our website bring joy to you and your four legged friend. Place an order for the products by Julius K9 with us and we will justify your trust.
Dog shop

›

Cat shop

›

Bird shop

›

Small pets shop

›

Aquarium shop

›

Horse shop

›

Reptile shop

›